At Cooper Spur Mountain Resort the health and safety of our guests and our team members is our number one priority.  While we have always taken great pride in maintaining high standards of cleanliness and sanitation, the effects of Covid-19 have required us to add new protocols to our operation.  We're following guidelines from global and local public health authorities.
Some of the added precautions and proactive measures we are taking to mitigate the spread of Covid-19:
The use of innovative cleaning technologies, including UV and steam sanitation
Extra disinfection of top 10 high touch areas in guest rooms including light switches and door handles
Increased cleaning frequency of public areas
Guest-accessible touchless hand sanitizer stations at entrances and high traffic areas
Enhanced team member safety and well-being with personal protective equipment and enhanced training and protocols
Some things to expect during your stay:
Social Distancing |  Social Distancing continues to be recommended or required practice in public settings. We've adjusted many areas of our resort to help guests adhere to these guidelines. During your stay please be mindful of other guests and maintain the suggested six feet of distance whenever possible. 
Face Coverings Are Required |  Face coverings are required in all indoor public areas, including our front desk, restaurant (when not seated at a table), and hotel hallways. Additionally face coverings are required outdoors while on property when six feet of social distance is not possible. Our team members will be wearing face coverings 100% of the time while on property. We have complimentary face coverings available for all guests at our front desk. 
Hotel Amenities |  Our guest hot tubs are currently closed, and while have suspended our continental breakfast buffet, we are offering continental breakfast baskets each morning.  We have some lovely private hiking trails on property, and when we receive enough snow, snowshoe rentals are included with your stay!
Restaurant Hours |  Our restaurant is closed in November.  Please inquire about our cabin and condo units that include a full kitchen.  Check out our Take & Bake menu, https://www.cooperspur.com/wp-content/uploads/2020/11/Crooked-Tree-Take-Bake-Menu.pdf . If you're staying in a cabin or condo unit, we can have Take & Bake items in your fridge upon your arrival.
Modified Housekeeping Service |  Our housekeepers will not enter guest rooms during a stay unless requested by the guest.  Stay over services will be offered to each room, but they will not be automatic.
Removal of Multi-Use Items From Our Guest Rooms |  Guest directories, and throw pillows have been removed from guest rooms (extra pillows are available upon request). We look forward to helping create a safe and fun environment for your get-a-way with us!
-The Cooper Spur Team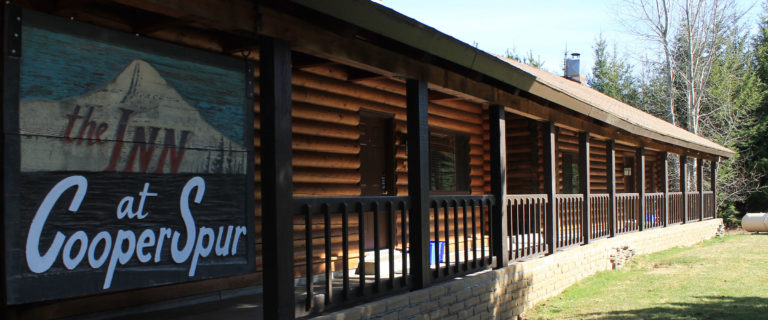 Our Wintery Lodge Awaits
Ready to start planning your trip? Peruse our accommodations and amenities to see everything that Cooper Spur has to offer!
View Lodging